Investment-Quality Equipment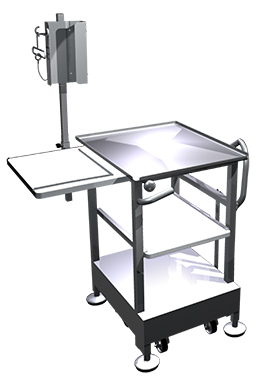 Deli Pro® B5 Mobile / Retractable Wheel Face to Face Slicer Mounting System®
January 15, 2019
An extension of the Deli Buddy® brand and part of the Face to Face Fresh® family, this patented work center puts deli associates Face to Face® with customers providing custom-sliced meats and cheeses while boosting sales and generating both customer and brand loyalty.
Features heavy duty Type 304 Stainless Steel tubular frame construction with adjustable friction padded feet and retractable dual precision bearing wheels.
Shown with optional Poly Bag / Tissue Glove Box Holder accessory.
Available in stationary, mobile, rail-based, wrap station, and custom configurations.
Ask about our school cafeteria models.