Investment-Quality Equipment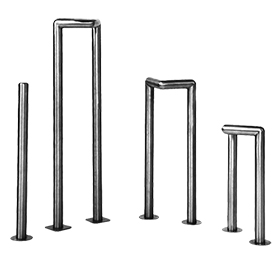 NEW Triple Polished Bakery Pro® Corner Guard Case Protectors
January 25, 2019
Introducing new, upgraded "super-finish" series (very bright polishing) corner guards, designed for high end bakeries.
STURDY. Constructed of 1-5/8" diameter tubing with 1-1/2" diameter stainless steel liners and socket extensions. Floor sockets have a flange and cement into place for optimum stability.
SAFETY. Generous radius at bends. Single corner protectors have dome tops.
SANITARY. All polished stainless steel, the units are ground to eliminate all evidence of welds. No seams are visible to distract from appearance or to attract dirt.
VERSATILE. Available in singular or double tube. Standard and custom sizes with optional poly bag holder. Floor sockets have round or square flange. Tubular corner protectors are removable when used with the M&E floor sockets.
Ask about our SPECIALS on 18" Singular and 24" Double with Floor Sockets